Equitable and inclusive learning environments are built on the choices of individuals. This 90-minute keynote will explore the notions of power and empowerment that are made evident in our decisions, our designs and our outcomes. With antiracism and Universal Design for Learning we can begin inviting every voice to powerful positions by honoring families, identity, culture, and learning needs. Participants will:
Explore the definitions of honor and power
Evaluate power filled choices and examine the implications of power in equitable access to learning.
Begin co-creating a community of educators who are conscious of how to use power to honor learners.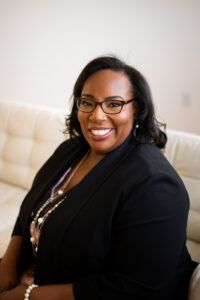 Andratesha Fritzgerald is the author of Antiracism and Universal Design for Learning: Building Expressways to Success (CAST, 2020), winner of a Benjamin Franklin Award from the Independent Book Publishers Association. She has served over 20 years in education as a teacher, curriculum specialist, administrator, and director. As an international speaker, presenter, and facilitator, Fritzgerald exhibits an audacious perseverance that calls organizations to evolve into inclusive antiracist safe zones for all learners and leaders. Andratesha holds a Master's Degree in Urban Secondary Teaching, with an emphasis on language arts instruction. She also has an Ed.S. degree in administration.
With a passion for Universal Design for Learning, Culturally Responsive Teaching and Antiracism, she has led collaborative initiatives to craft organizational implementation plans, design lab templates, professional development symposia and professional practice cadres. She models expert learning while equipping others to do the same. Andratesha's work has been featured in Education Week, ASCD Express, and Think Inclusive. She has partnered with PBS Kids, Goalbook, Harvard Graduate School of Education, Ireland National College and countless colleges, universities, school districts and organizations to share the message and the work of equitable and inclusive practices.
Find out more on buildingblocksofbrilliance.com or @FritzTesha on social media.
This 90-minute webinar takes place from 2:00-3:30 pm Pacific time, September 22, 2022.
The session will be recorded and captioned to share later.
This session will include real-time captions (CART) and ASL interpreters. Please let us know about additional accommodations you need to participate in this webinar.
Register for this webinar