Asynchronous conference site
Synchronous Symposium April 28, 11:00 am – 3:30 pm
Symposium Registration
Register now to attend a virtual symposium about the design, use, and assessment of open educational resources. All employees and students from Oregon's institutions of higher education, and interested K-12 educators, are invited.
We hope you will join us to:
Celebrate Oregon's open education community of practice
Apply takeaways to your own open education work
About the Event
Explore Materials: Because we are planning a virtual event, all of our asynchronous materials will be released on April 21 for advance viewing. We're also holding time from 9-11am on April 28 for participants to watch videos and explore resources.
Starting at 11am on April 28, we have two time slots for synchronous "birds of a feather" sessions where participants will find lively discussions with colleagues on topics of shared interest. Any attendee can volunteer to host a topic via the registration form.
In the afternoon, all participants are welcome to join us for a 90-minute keynote, the OER Champion Awards, and an update on OER around the state – followed by a virtual game night.
We will host a Zoom "lobby" for informal conversation throughout the day.
Keynote: Design Justice and Design Pedagogies
In this 90-minute keynote address, Dr. Costanza-Chock will share reflections on critical pedagogies of design justice. We will explore questions such as: How might we teach and learn design justice? What would it mean for institutional structures to support a community-based pedagogy of technology design? What are the challenges in an age of the neoliberalization of the educational system? Dr. Costanza-Chock will challenge Oregon's open ed community to build design systems where students analyze the role of design in our world, recommending methods and strategies that instructional designers and open education practitioners in Oregon can take up to design for justice. This presentation will include a series of questions and collaborative opportunities for participants to apply concepts and talk together, creating action steps for changing design systems in their own campus communities.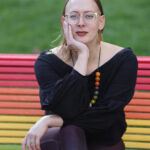 Sasha Costanza-Chock (she/they/ella/elle) is a researcher and designer who works to support community-led processes that build shared power, dismantle the matrix of domination, and advance ecological survival. They are a nonbinary trans* femme. Sasha is known for their work on networked social movements, transformative media organizing, and design justice. Sasha is presently the Head of Research & Sensemaking at OneProject.org and Associate Professor at Northeastern University's College of Arts, Media, & Design. Sasha is also a Faculty Associate with the Berkman-Klein Center for Internet & Society at Harvard University and a member of the Steering Committee of the Design Justice Network (designjustice.org). They are the author of two books and numerous journal articles, book chapters, and other research publications. Sasha's latest book, Design Justice: Community-Led Practices to Build the Worlds We Need, was published by the MIT Press in 2020.
Thank You Symposium Planners:
Stefanie Buck, Oregon State University
Abel de la Cruz, Portland Community College
Amy Hofer, Open Oregon Educational Resources
Susan Payne, Oregon Department of Education
Rayne Vieger, University of Oregon
Kristin Whitman, Oregon Institute of Technology
Meggie Wright, Lane Community College
Taylor Wynia, Open Oregon Educational Resources