Join Oregon's higher education community in the global celebration of Open Education Week!
The Statewide Events Menu includes a daily challenge for each day of Open Ed Week, complete with hashtags and sharing platforms to celebrate new milestones in open education.
Forty faculty have signed up for an OER course redesign sprint. Preview the training that we'll use to switch from expensive textbooks to open alternatives.
Oregon Institute of Technology and Klamath Community College are starting early with Open Textbook Review workshops and a full day of faculty presentations at OIT's Klamath Falls and Portland Metro locations on February 27.
Portland State University is hosting an Open Education Week Kickoff on March 4, 8:30am-4pm, featuring workshops, student and faculty panels, and more. RSVP to GOO.GL/1LTWYF
Mt. Hood Community College will have workshops and events for students and faculty on March 5, 6, and 7. Learn about the student perspective on textbook costs and how OER can help solve the problem.
Blue Mountain Community College is celebrating OER with pizza from 12-2 on March 7 – all are welcome.
Treasure Valley Community College has events planned for students and faculty including a movie night! More info
Oregon State University is hosting daily Open Ed Week activities. More info
Is your campus hosting an Open Ed Week event? Leave a comment below!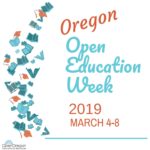 Thank you Open Education Week 2019 Workgroup members:
Stefanie Buck, Oregon State University
Amy Hofer, Open Oregon Educational Resources
Shannon Riggs, Oregon State University
Jessica Sandoval, Open Oregon Educational Resources
Christina Trunnell, Treasure Valley Community College
Jaime Wood, Portland State University
Meggie Wright, Lane Community College